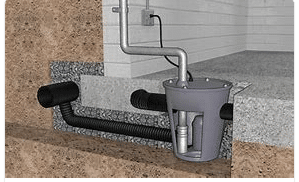 Sump pumps are used to remove water from water collecting basins, located below the floor level in Champaign-Urbana, IL. They are typically located in the lowest area of a basement or crawl space.
How Does a Sump Pump Work?
Water flows into a basin, either through drains or naturally
As the basin fills, the sensor on the sump pump is triggered, which activates the sump pump
The pump then begins to remove this excess water
The sump pump removes water through the discharge pipe
The discharge pipe then removes the water away from the house
Should I Install a Sump Pump?
Do you frequently have water in your basement or crawl space?
Do you live in an area with a lot of snow or rain?
Do you live in a low-lying area?
Do you have a finished basement?
Do you have appliances, a furnace, or a water heater in your basement?
If you answered yes to any of these questions, you probably should install a sump pump.
What are the Benefits of Having a Sump Pump?
Defends your home against flooding
Increases property value
Reduces risk of fire from electrical shorts
Reduces insect and pest infestations
May be required for homeowner's insurance coverage of flood damage
Safeguards furnace, water heater, or other appliances from corrosion or flood damage
Helps prevent fungus, mold, and mildew
Practicing Proper Sump Pump Maintenance is Crucial
Faulty sump pumps are the most frequent cause of basement floods
A sump pump is an essential tool for keeping your basement or crawl space dry
Even if you have home owner's insurance during a flood, some plans will not cover water damage without proof of sump pump maintenance
Contact Lanz Plumbing, Heating & Cooling, Inc. Today to Schedule Plumbing Maintenance
Inspect and test sump pump
Inspect water and drain lines
Inspect gas piping
Inspect, flush, and tune water heater
Inspect sewer main with camera
Inspect and test fixtures, faucets, and hose bibbs