Sewer and Drain Camera Inspections Near Champaign, IL
If you suspect you're dealing with a sewer or drain clog, it's important to work with a trusted plumber to ensure the issue is removed completely. Most DIY methods only offer a band-aid solution by pushing the clog down further. The expert drain cleaners at Lanz, Inc. use camera technology to pinpoint the exact location of the clog and eliminate it. We have inspection equipment for any kind of drain, s we'll have your Champaign, IL, home or business running again in no time!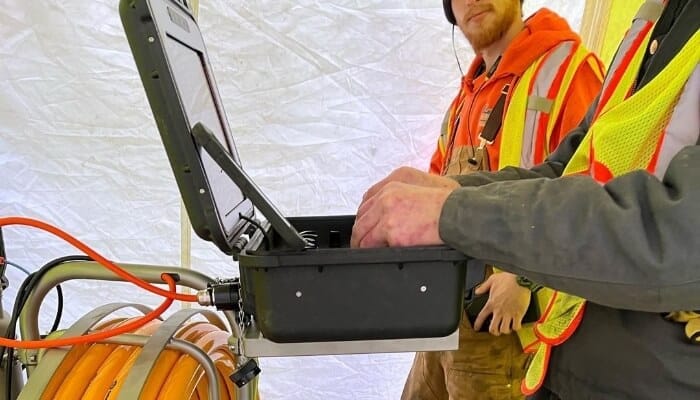 Small Diameter Drain Lines
We offer a full line of sewer and drain camera inspection tools. At one time, small diameter drain lines such as bathroom sinks, kitchen sinks, and floor drains were impossible to camera and locate. With the help of state-of-the-art technology, we service and clean these drains with no problem.
Our camera systems have the ability to pass through a floor drain trap if the line allows. These cameras may be able to navigate 2" lines that have trench rot or broken areas. The benefit of this is the ability to navigate through the line and confirm that it still has some structure. From there, a trenchless solution to repair the line may be the best option.
Standard Diameter Drain Lines
We offer camera inspection setups that will inspect all standard main sewer and drain lines. These lines are typically 3" 4" 5" & 6". With the ability to inspect up to 200' we can reach the entirety of most common lines. The information collected in these inspections will be delivered to the owner for their records.
Large Diameter Drain Lines
We utilize a crawler camera that is ideal for 6" lines and above. This setup actually offers the opportunity to inspect 6" sewer and drain lines that are utilized for private sewer mains and/or field tiles and storm drains. With the ability to inspect long runs of 6" corrugated such as a sump collector, neighborhoods may now have the opportunity to rehabilitate lines that were previously diagnosed and failed.
We Take the Guesswork Out of Drain Cleaning
Your home and business's plumbing is a complex system and can be overwhelming, especially when you're dealing with a blockage. Lanz, Inc. has all of the tools and training necessary to get the job done right the first time. Our plumbers are experts in navigating even the most difficult drains to find the root of the issue in no time. If you're unsure about another company's assessment or simply need a second look, we're here to help! Give us a call at 217-394-1380 to schedule your free camera inspection and drain cleaning.