Drain Cleaning for Your Home Near Champaign, IL
No one likes dealing with a drain clog that interrupts your day and threatens damage to your home with backed-up and standing water. The drain cleaning and clearing specialists at Lanz, Inc. are here to help get things running again! Since 2002, we've been providing the Champaign, IL, area with professional plumbing services founded on honesty and integrity.
We offer free camera inspections to accurately locate and solve the issue. If you've been given the runaround or had a bad experience with another company, we are more than happy to offer a pressure-free solution, free of any unnecessary services. Why call anyone else?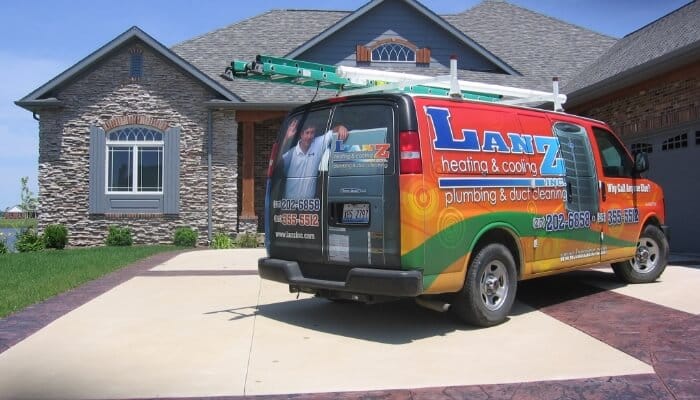 Kitchen Sink Drain Cleaning
Is your kitchen sink not draining properly? Is the water filling up on both sides of the sink? These are a couple of symptoms of a slow draining or backed-up kitchen sink drain. Kitchen sink clogs are common and usually caused by soap scum and waste buildup. It's important to call a drain cleaning specialist at the first sign of a problem to avoid further water waste and water damage.
Our team specializes in a wide range of kitchen sink drain makes, models, and ages so you can rest assured we will get the job done right the first time. If you live in a newer home, your kitchen drain was most likely installed with PVC. Older homes and properties more commonly have cast iron, galvanized pipe, or even copper. No matter the age of your home and kitchen drain, we have the tools and knowledge to identify the problem and get the drain running again.
Bathtub Drain Cleaning
Do you have standing water in the bathtub when showering? Does it take an hour for the water to drain? This is a common drain maintenance issue that Lanz, Inc. helps with.
Bathtub drains are designed to travel through a trap under the floor and then connect to the drain line that connects to the plumbing system. These traps are typically P-traps installed with PVC, brass, or even cast iron. These traps are normally easy to navigate and Lanz, Inc. will have the drain flowing in no time.
A common issue found with bathtub drain cleaning is hair accumulation that will not allow the water to drain correctly. Once removed, all is back in good working order. Other times, the original installation may include what's known as a "can trap" which may make cleaning more difficult. If a can trap is identified, we will investigate the current condition and make you aware if there is any damage that requires replacement. No job is too big or small for our team, and we will navigate any hurdle while keeping you informed through the entire process.
Bath Sink and Small Hand Sink Drain Cleaning
Does your bathroom sink not drain after brushing your teeth or washing your hands? This is a common drain cleaning maintenance issue found in the home. Typically, we find soap and waste build-up and or a hair mass that needs to be removed to get everything draining again.
If you notice an issue with your bathroom sink or hand sink, give our expert team a call before the issue gets any worse. We will quickly and accurately locate and remove the issue so you can get back to business.
We Take the Hassle Out of Home Drain Cleaning
Here at Lanz, Inc., our number one priority is your comfort and satisfaction. Since 2002, we have been delivering exceptional drain cleaning to our surrounding communities and beyond. We aim to take the stress and hassle out of dealing with home drain clogs. If you notice any signs that there is a clog in your home, don't wait before it turns into a big problem. Call our team at 217-394-1380 to schedule fast and easy service that works with your schedule!