Professional Plumbing Installation Near Champaign, IL
Whether you're building, upgrading, or remodeling, you can't afford to settle for second-best when it comes to your new plumbing systems. The plumbing installation team at Lanz, Inc. has you covered with top-notch products and exceptional service in Champaign, IL, and the surrounding areas.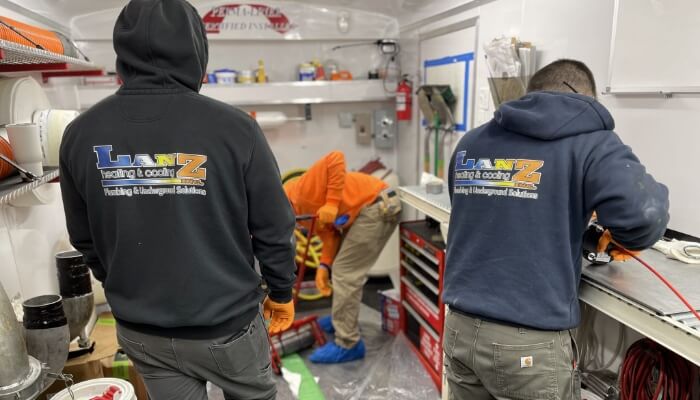 Your One-Stop, Full-Service Plumbing Installation Team
Every home has unique plumbing needs, and our plumbing service team's goal is to make sure you have the right products to meet those needs. We install and replace a full range of plumbing systems, including:
Sinks
Toilets
Water heaters
Boilers
Hot water dispensers
Water softeners
Garbage disposals
Venting systems
Appliance hook-ups
Dishwashers
Washing machines
Make a Safe Investment in Plumbing Services
You use your plumbing systems every day, and there's nothing like a plumbing problem to add to a homeowner's stress level. That's why we take our work so seriously. Our goals are always the same: to provide every customer with efficiency, comfort, and peace of mind. You should be able to rest assured that your plumbing systems work properly and that they aren't wasting water. We put in the time and effort to take care of each component, seen or unseen, to make those goals a reality.
We've grown substantially since 2002 thanks to this philosophy, and we've earned a reputation for excellent work. We're proud to be a Better Business Bureau member and have earned numerous awards for our quality of service. Moreover, every plumbing installation project comes with an up to 10-year parts and labor warranty for members of our Lanz Comfort Family, as well as a 100% satisfaction guarantee.
Get Started on Your Plumbing Installation Project
Whether you're building a new home, putting an addition on your existing home, or remodeling a room that includes plumbing systems, you'll want to get our experienced plumbers involved from the beginning. We will help you find the right systems and the right financing for your budget, and treat you with absolute integrity from start to finish.
Many of our neighbors are already enjoying the plumbing systems that the Lanz, Inc. team installed, and we would be honored to take on your plumbing project as well. Contact us online or give us a call at 217-394-1380 to speak with a comfort consultant.