Commercial Services: New Construction, HVAC, Plumbing & Site Utilities
At Lanz, Inc., our commercial HVAC, plumbing and site utilities teams are committed to quality and precision. We provide comprehensive services for commercial and large residential properties, from new construction projects to repairs and preventative maintenance.
Our team is licensed, highly trained and equipped with state-of-the-art tools to tackle any job. We are proud to serve Illinois and Arizona with high-quality commercial solutions designed to meet your unique needs and stand the test of time for maximum comfort and efficiency.
Our Arizona Location: 
1300 S. Litchfield Rd
Suite A-1030
Goodyear, AZ 85338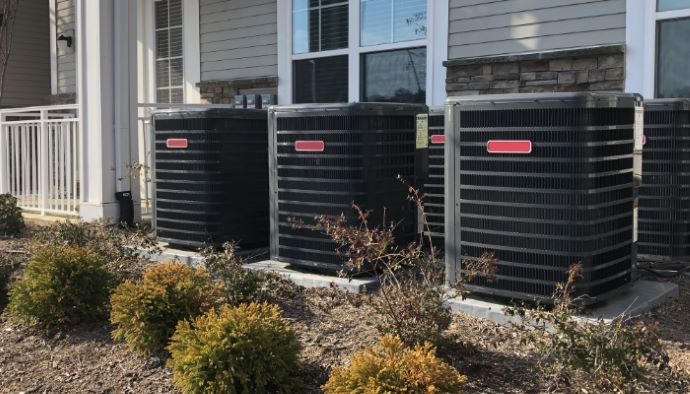 New Construction
New construction projects for commercial properties require a skilled team to manage timelines, oversee development and design long-lasting systems tailored to your needs and expectations. At Lanz, Inc., our expertise in plumbing, HVAC and site utilities provides comprehensive service from start to finish.
We understand the importance of minimizing downtime and disruption for your new construction project. We have specialists and advanced equipment to handle design, construction and installation for a streamlined process.
Our teams work with a wide range of commercial properties, from apartments and multi-family dwellings to restaurants and small businesses. We provide a custom experience from start to finish, keeping you informed, in control, and in the know with proactive communication. No matter the vision or scope, we provide reliable solutions that adhere to local building codes and regulations for safe operation that helps you increase efficiency and reduce energy costs.
Multi-Family Dwellings
Our expert team has extensive experience in managing new construction and ongoing maintenance for apartments, large residential properties and multi-family dwellings. We have advanced equipment to handle all of your HVAC, plumbing and site utility needs, both big and small.
Throughout the project, our team streamlines communication and timelines to ensure you stay informed from start to finish. Our work speaks for itself and we are proud to offer comprehensive services that take the stress out of managing your property's comfort.
Site Utilities
Our site utility services for new construction projects deliver safe and reliable solutions for your large residential, commercial and multi-family properties. We utilize state-of-the-art equipment and trenchless technology to minimize excavation and downtime.
Sewer Line Installation
Your property's sewer line plays a critical role in safe waste management. Our sewer line experts work efficiently to install new main sewer lines with as little disruption as possible. We know that sewer line installation for your new construction project is time-sensitive. That's why we approach every job with your unique needs and timeline at the forefront to ensure everything is done right the first time.
Water Line Installation
Clean, reliable water for your property starts on the day your water line is installed. We have an experienced team of licensed plumbers and underground installation experts to handle your project with care and attention to detail. Our main water line installation services keep your plumbing network running smoothly from day one and protect your water from contamination.
Storm Drain Installation
Stormwater drains are essential to managing water runoff, preventing flooding and safeguarding your property from damage. Our underground solutions team has 100+ years of combined experience and will ensure your new storm drain is designed to meet your site's needs. With meticulous planning and state-of-the-art equipment, we deliver efficient and reliable solutions that meet regulatory standards.
Manhole Installation
Manholes are essential for regular inspection, repair and maintenance of sewer and drain systems. Our team specializes in installing new manholes carefully and securely for safe access to your property's underground utilities. Whether you're in need of new manholes for infrastructure development or the replacement of existing ones, our company delivers reliable solutions tailored to your specific needs.
Commercial HVAC
Elevate the comfort and efficiency of your property with our comprehensive range of commercial HVAC services tailored to apartments, multi-family dwellings, businesses and restaurants. Our dedicated team specializes in delivering top-notch solutions and 24/7 emergency repairs for reliable comfort year-round.
Our Commercial HVAC Services Include:
Installation and Repair: Keep your property warm all winter and cool through even the hottest summers with our reliable HVAC installation, replacement and repair services. Whether it's time for a heating and cooling upgrade or an emergency repair, our team has you covered.
Maintenance: Regular HVAC maintenance is key to preventing breakdowns and optimizing energy efficiency. We provide proactive servicing and commercial HVAC maintenance plans to extend the lifespan of your equipment and reduce operational costs.
Trane Packaged AC Systems: We proudly offer Trane's high-quality packaged AC systems for reliable comfort and increased energy efficiency that helps you save.
Trane Rooftop Units: For properties with limited space, our Trane rooftop units are the perfect solution. These units are space-saving, quiet and built to deliver exceptional performance.
Energy Management: Our commercial HVAC services help you take control over energy consumption to reduce utility costs without compromising comfort. We will help you find the right solutions for your needs, from smart HVAC technology to energy-efficient system upgrades.
Commercial Plumbing
Having safe, durable and trusted plumbing for your commercial property is essential to keeping day-to-day operations running smoothly. We offer a range of expert commercial plumbing services for apartments, multi-family residences, restaurants and more. Our team is dedicated to delivering tailored solutions for dependable water flow and efficient wastewater management.
Our Commercial Plumbing Services Include:
New Plumbing Installation: From new construction to renovations, we specialize in designing and installing plumbing systems that meet your property's needs and local building codes.
Remodeling Projects: When it's time to revamp your property, our experienced plumbers can assist in redesigning and upgrading your plumbing systems to enhance functionality and aesthetics.
Plumbing Repairs: Plumbing disasters don't always happen during business hours. That's why we offer 24/7 emergency repairs to restore hot water, repair leaks and tackle stubborn clogs with minimal disruption and downtime.
Sewer and Drain Services: Our expert team handles sewer and drain maintenance, repairs, and cleaning, preventing blockages and ensuring efficient wastewater disposal.
RPZ Installation, Repair, and Testing: Safeguard your potable water supply with our comprehensive services for Reduced Pressure Zone (RPZ) valve installation, repair, and regular testing to comply with regulatory standards.
Proudly Serving Illinois & Arizona
When you choose Lanz, Inc. for your commercial needs, you're choosing a partner committed to excellence and reliability. With decades of experience in plumbing and HVAC services tailored to commercial property owners, we offer comprehensive solutions that enhance comfort and efficiency.
Trust us to deliver quality, professionalism, and peace of mind. Take the next step in securing the best for your commercial space. Contact us today at 217-394-1380 for unmatched expertise and service that sets us apart.