Water Heater Repair and Replacement Near Champaign, IL
Does your current water heater in Champaign, IL, or the surrounding areas need to be repaired, maintained, or replaced? Lanz, Inc. is here to help you enjoy the convenience of hot water in your home every day for years to come. We know how much you rely on your water heater day in and day out. That's why we take the time to understand your needs and find the right new system or repair solution. Why call anyone else?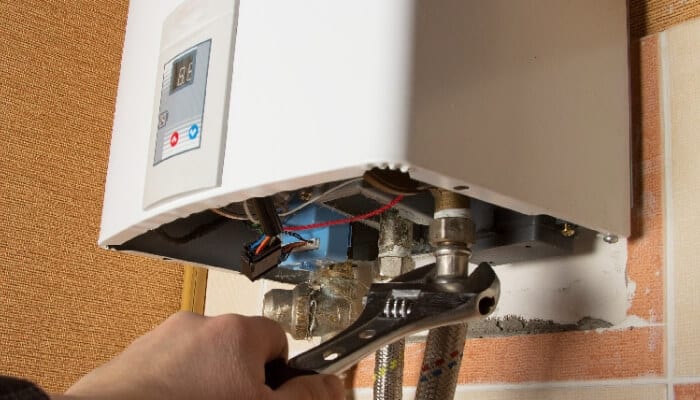 Water Heater Installation and Replacement
A new water heater is a big investment in your home, and we're here to help you understand your options and make an informed decision. In general, your options are tankless water heaters and traditional water heaters. The advantage of a tankless system is that it provides "on-demand" heating, whereas a traditional system with a tank needs to burn fuel to provide "standby" heat and keep the water in the tank warm.
If you use a lot of hot water, the efficiency of a tankless system can save you money in the long term. However, traditional water heaters with efficient, insulated tanks can mitigate much of the energy loss. Our expert plumbers will assess your home's needs, help you find the right fit, and get it installed with expert care.
Water Heater Service and Repair
Few things are more frustrating than suddenly being without hot water for washing, bathing, and cleaning. At the first sign of trouble with your water heater, you need to get it fixed to avoid a larger future problem. Our plumbing repair technicians will carefully inspect your system, get to the root of the issue, and give you a clear estimate and explanation of what's required. Our goal is to get the job done correctly the first time, even if it takes longer.
We work this way because we're absolutely committed to our customers' comfort, efficiency, and peace of mind. The water heater is an essential part of your home, and we take our work seriously so that you can enjoy the comfort of your home without any further issues. Our work is backed by a 100% one-year satisfaction guarantee as well as a 10-year part and labor limited warranty through our Lanz Comfort Family.
Schedule Your Water Heater Service Today
Taking your needs, budget, and hot water usage into account, we'll help you find the right system for your home. As a Trane Comfort Specialist, we're handpicked by the manufacturer to sell and install Trane water heaters, and we've earned numerous recognitions for our high-quality work.
We've been servicing water heaters in Champaign-Urbana and throughout the surrounding communities since 2002, and we're proud to say that many of our neighbors are enjoying hot water from systems we installed or maintained. At the first sign of an issue with your water heater, contact us online or give us a call at 217-394-1380 today.