Drain Cleaning Services Near Champaign, IL
Few things are more frustrating than dealing with a drain clog. At Lanz, Inc., we know how stressful it can be trying to find a fast solution when your day is already interrupted. We're here to take the hassle and guesswork out of getting your pipes flowing again in the Champaign, IL, area. We provide same-day drain cleaning service and stress-free solutions tailored to your needs, with free estimates, free second opinions, and free camera inspections with cleanout access so you can rest assured the job gets done right the first time.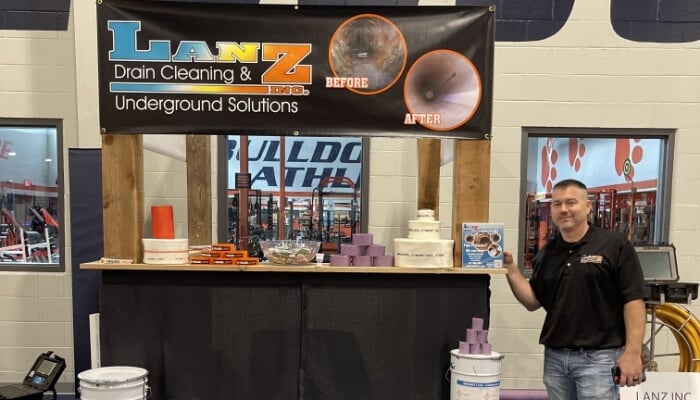 Sanitary and Storm Drain Cleaning
We have the experience and skills to know the ins and outs of sewer, sanitary, and storm drains. Whether the problem is caused by tree root obstructions, unflushable waste, or structural issues, we have the advanced technology and expertise to provide a solution.
Our sanitary and storm drain cleaning services include:
Main Sewer Lines
Main Sanitary Sewer Lines
Storm Water Systems
And More!
Household Drain Cleaning
If your kitchen sink, bathtub, or hand sinks are slow to drain or unable to drain at all, it's time for professional cleaning. While DIY drain-clearing methods can be a fast fix, they only push clogs down further and can cause corrosion to your home's piping system from the caustic chemicals. The Lanz, Inc. drain specialists are here to pinpoint the clog and remove it permanently to protect your pipes and keep things moving.
Household drain cleaning services we provide include:
Kitchen Sinks
Bathtub Drains
Bathroom Sinks
Small Hand Sinks
And More!
Solutions for Even the Most Stubborn Clogs
We operate with honesty and integrity so you never have to worry about feeling pressured into a quick fix that doesn't solve the root of the problem. While we aim to be the first call you make for drain cleaning, we're here to make the process as easy as possible, no matter what. We're happy to provide free second opinions and expert advice to help you make informed decisions to protect your home. When you need drain solutions that put you first, we'll be here at 217-394-1380 .
What are the benefits of professional drain cleaning?
Professional drain cleaning offers several benefits that DIY methods might not achieve. Experienced plumbers use specialized tools and techniques to effectively remove stubborn clogs and debris from your pipes. They can identify underlying issues that could lead to future problems, helping prevent recurring blockages. Professional cleaning improves water flow, prevents foul odors, and reduces the risk of pipe damage caused by corrosive chemicals. Additionally, plumbers ensure safe and thorough cleaning without damaging pipes, promoting a healthier and more efficient plumbing system in your home.
What are the main causes of drain clogs?
Drain clogs can result from many different things. Accumulation of hair, soap scum, and hygiene products is common in bathroom drains. In kitchen sinks, grease, food particles, and oil contribute to blockages. Outside debris like leaves and dirt can clog outdoor drains. Mineral buildup, tree roots infiltrating pipes, and foreign objects flushed down toilets also cause clogs. Inadequate pipe slope or design can lead to slow drainage. Regular maintenance, proper disposal practices, and avoiding putting inappropriate items down drains help prevent these issues and maintain a healthy plumbing system.