Duct Cleaning Services Near Champaign, IL
When it comes to keeping your Champaign, IL, area home's HVAC system in tip-top shape, air ducts are often overlooked. They're an important part of maintaining proper indoor air quality and extending the lifespan of your heating and cooling equipment, though, so it's important to look after them. Lanz, Inc. is here to deliver professional ductwork cleaning services to help you and your family enjoy cleaner, fresher air all year long.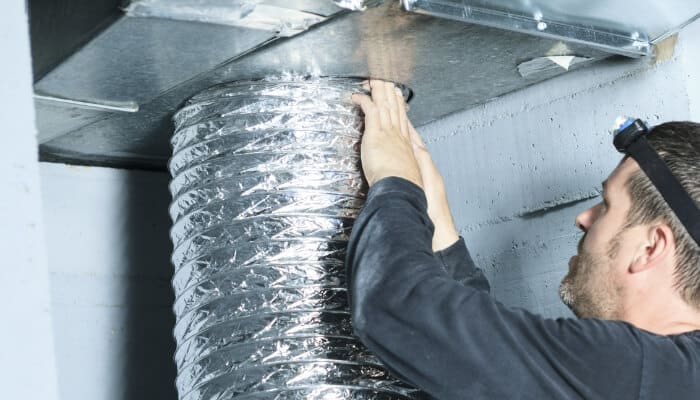 Do You Want Cleaner, Healthier Indoor Air?
Although everyone can benefit from cleaner indoor air, we've identified some key groups of people who typically benefit more. Having your air ducts professionally cleaned every three to five years prevents unwanted dust, debris, mildew, and more from being pushed through your home's vents and into the air you breathe every day. Those who are most impacted by poor air quality include:
Children
Infants and children are more susceptible to dust and other indoor air pollutants due to the amount of time they spend on or near the floor of your home. Quality air duct cleaning and a good quality air filter from Lanz, Inc. will provide a fresh start for a newborn baby's homecoming and healthier indoor air for children suffering from allergies and asthma.
Pets
Veterinarians often prescribe improving indoor air quality for their furry patients and for the patient's owners. Low to the ground and susceptible to allergens, pets benefit from cleaner, healthier air. Our duct cleaning services will provide a reduction of allergens and elimination of dander and pet hair.
Medical Patients
Clean air is imperative for those suffering from debilitating illnesses including cystic fibrosis, history of organ transplantation, and those receiving chemotherapy agents, among others. Those who receive immunosuppressants are particularly prone to contract opportunistic infections caused by organic growth. Air duct cleaning coupled with a quality air filter may assist these individuals by decreasing the presence of organic growth that can cause infections and reducing allergens and bacteria that contribute to common illnesses.
Elderly Residents
Poor air quality in the home can have a direct and adverse effect on senior citizens. Air duct cleaning takes just 2 to 4 hours, yet can provide 3 to 5 years of cleaner air, as well as improved comfort and air quality which can decrease fatigue and common airborne pathogens.
The Lanz, Inc. Air Duct Cleaning Method
Our team works to clean and restore your air ducts by using our high-power vacuum truck to remove dust, dirt, and dander from the air you breathe.
Here are a few of the quality steps we take:
We enter your home wearing shoe protectors.
We pull off all of the registers (supplies/returns).
We provide protection for wall corners.
We take all of the dirt with us!
We're passionate about helping you keep your home safe and healthy with fast air duct cleaning that offers both immediate benefits and lasting results. From St. Joseph to Urbana and beyond, we'll be here at 217-394-1380 for all your duct cleaning needs!