Residential AC Installation and Replacement Near Champaign, IL
If you're replacing or installing an air conditioning system, you can't afford to leave anything to chance. Trust the pros at Lanz, Inc. for expert guidance and thorough AC installation services in Champaign, IL, and surrounding areas. Our expert technicians will help you find the perfect system based on your home's needs and ensure the unit is carefully installed to last for years to come.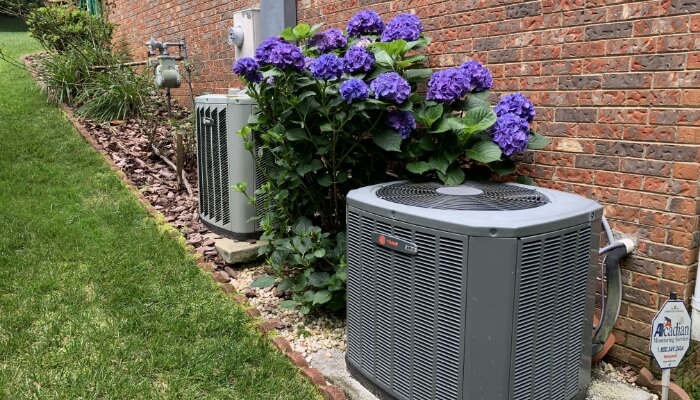 Your Guide to Air Conditioning Installations
Do you know the difference between single-stage and multi-stage compressors? Can you calculate your home's cooling load? For most homeowners, these topics are probably a little outside of their comfort zone. Fortunately, we specialize in knowing these things so that you don't have to.
Our job is to always provide tailored AC solutions and outstanding customer service. The installation process starts by gathering data and performing important calculations. We'll discuss your preferences and goals to help us provide more personalized service. Once you've found the right system, our technicians will carefully install, calibrate, and test it to ensure optimal performance.
Considering an Air Conditioner Replacement
There are plenty of good reasons to be proactive in replacing your current AC. Upgrading from an obsolete model can significantly reduce energy consumption and save money on utility costs. Similarly, replacing a troublesome system can help you avoid breakdowns and repeated AC repair visits. We offer honest assessments to help you decide whether a system replacement makes sense. In general, we recommend replacing air conditioners that are:
More than 12-15 years old.
Prone to frequent breakdowns.
In need of very costly repairs.
Powered by an outdated type of coolant.
Improperly sized for your home.
Far short of current efficiency standards.
We Put Our Customers First
At Lanz, Inc., we know that carrying and installing great products is only part of our job. We also take pride in providing exceptional service, which is why we're always looking for opportunities to improve. We work closely with each of our customers to deliver a positive, personalized experience.
We're always happy to educate and answer questions, helping you make better and more informed decisions. For your protection, all of our NATE-certified technicians are fully licensed and insured. As a Trane Comfort Specialist, we stay on top of the latest industry developments with ongoing training and education. We also offer financing options to help you get the new system you deserve without worrying about the price.
Providing Quality Installations Since 2002
We do everything we can to ensure your installation goes off without a hitch. Lanz, Inc. is one of the area's premier contractors for HVAC services. As a family-owned and operated company that's been in business since 2002, we value the principles of honesty and integrity. We're proud to offer flat-rate pricing, 24/7 emergency service with no additional fee for after-hours service, and a 100% satisfaction guarantee.
We believe in developing our expert employees through a strategic career path and giving back through charitable organizations to demonstrate our commitment to our clients and our community. You can always count on us for skilled workmanship, honest service, and proven results. Why call anyone else? Reach out to us today at 217-394-1380 to schedule your service!