Home Heating Services Near Champaign, IL
Great help for your home's heating system may seem hard to find, but it's just a phone call away with Lanz, Inc. As a leader in high-quality heating services in Champaign, IL, and surrounding areas, you can bet on us for great results at affordable prices. No matter the project, we have the services you need at prices that fit your budget. Why call anyone else?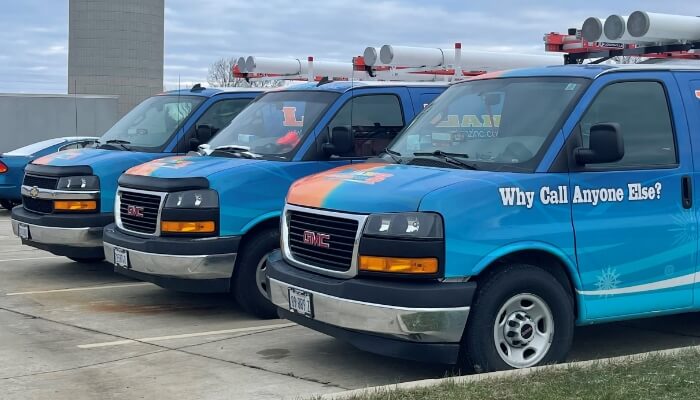 Your Full-Service Heating Contractor
Few household tasks consume more energy than keeping away the wintertime chills. Heating is always an energy-intensive process, but it's often made worse by shoddy installations or poor maintenance. In addition to wasting energy, this can also affect your comfort. At Lanz, Inc., we're dedicated to making sure that doesn't happen. We employ NATE-certified technicians to perform a full range of home heating services. From replacing an aging heat pump to fixing an urgent furnace leak, we will handle all your heating needs, including:
Central heating system installations, replacements, and repairs.
Furnace installations, replacements, and repairs.
Heat pump installations, replacements, and repairs.
Boiler installations, replacements, and repairs.
Annual maintenance and scheduled tune-ups.
Furnace and Heat Pump Installations
For years, heating contractors relied on rules of thumb when choosing a heating replacement for homeowners. It made for a quick and simple installation process, but it hurt customers in several important ways. Many such systems ended up being oversized, resulting in poor efficiency, short cycling, and premature wear.
To ensure we deliver better results, our technicians follow detailed procedures to determine how much heating capacity you need. We use this data to help you choose the most suitable heater for your home. Finally, we take the time to install your new heater according to industry-recommended standards and guidelines.
Scheduled Maintenance and Heating Repairs
Is there anything worse than waking up or coming home to a house that's colder than you expected? A sudden heating failure can ruin your day, but Lanz, Inc. is ready to help make it right again. We pride ourselves on delivering timely, responsive repairs when our customers are in need.
As a Trane Comfort Specialist, we're also big believers in focusing on prevention. Our heating maintenance services are specifically designed to treat normal wear and tear before it becomes too severe. This proactive service helps improve your system's reliability and efficiency while saving money on repair bills. Joining our Lanz Comfort Family brings you exclusive perks and savings, all while keeping your heating system prepared for winter.
Reliable Heating Products and Services
Whether you need minor repairs or a full system replacement, we're here to serve all your home comfort needs. We're a family-owned and operated heating service that's been in business since 2002 and values the principles of honesty and integrity. When you choose Lanz, Inc., you're getting more than just an expert heating service.
We're proud to offer flat-rate pricing, 24/7 emergency service with no additional fee for after-hours service, and a 100% satisfaction guarantee. We're also passionate about giving back to our communities and setting our employees up for long-term success to provide better service all around. When you need heating help from a company that treats you like family, just give our friendly pros a call at 217-394-1380