Directional Boring Services Near Champaign, IL
Lanz, Inc. is proud to offer directional boring of pipes in the Champaign, IL, area! We have the tools and equipment to directionally bore water, sewer, and drainage pipes. We also install main lines and service lines under concrete or in areas of your property that you don't want excavation to disturb. This is a great alternative to installing or replacing pipes in hard-to-reach areas! We partner with our expert plumbers as well as electrical and utility companies.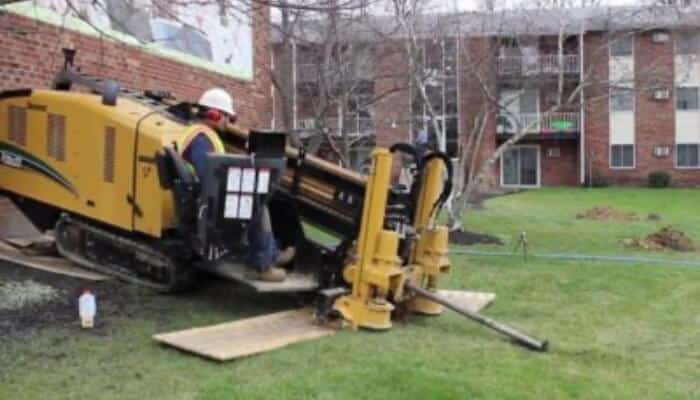 Advantages of Directional Boring
Directional boring is sometimes used interchangeably with "horizontal drilling" or "deviated drilling." Our directional drilling equipment offers a trenchless solution to pipe and line installation and replacement, without all the hassle of trenching. We help you avoid unnecessary messes and disruptions to your property for your convenience.
Some of the benefits of directional boring include:
Faster and safer service. Less disturbance means faster access and faster cleanup. Our equipment allows us to quickly and accurately reach the area needing work to be in and out in no time. Trenchless methods are also safer for workers and not affected by inclement weather like trenching is.
Eco-friendliness. Invasive excavation methods pose the risk of groundwater pollution and soil contamination. They also impose greater disruption to the ecosystem of the dig site. Directional boring is designed to be as minimally invasive as possible while installing sewer and drainage pipes and more.
Greater flexibility. With the ability to reach difficult areas with ease, work around obstructions, and drill through even the toughest underground material, directional boring works with your unique environment. Our equipment even works in high-traffic areas without impeding roadways.
Alternative Solutions That Meet Your Needs
Here at Lanz, Inc., we're all about providing innovative services that save you time, money, and hassle. With 100+ years of combined industry experience, we continue to stay on top of the latest trends and training to bring you quality underground installation, repair, and more, every time. No matter the project, we have the tools and know how to tackle it. Why call anyone else? Get in touch with our team today at 217-394-1380 for more information about directional boring and scheduling.