Pipe Descaling Services Near Champaign, IL
Here at Lanz, Inc., our team routinely descales cast iron and metal pipes using sophisticated machines with special heads to remove the scale buildup. This buildup can significantly slow down the outgoing flow on sewer and drain lines and even stop the line altogether. If you've noticed slow-draining water or leaks, it may be time to schedule descaling. We offer the most convenient solutions in the Champaign, IL, area for descaling and assessing your pipes after the work is done.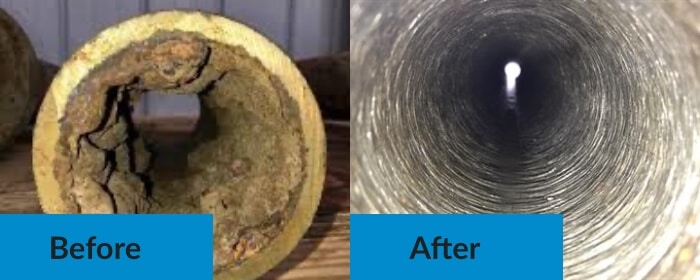 When and Why Descaling Is Needed
Newly-installed cast iron and metal pipes under concrete offer a smooth, seamless outgoing flow for sewer and drain lines. Over time, scale buildup from minerals, rust, grease, and other waste can lead to complete blockages and sewer backup. Left untreated, the pipe scale corrodes and compromises the pipes.
While sewer cleaning removes blockages, it doesn't grind the scaling off and drop it into the flow line to make the pipes near-new again, depending upon the existing structural integrity of the pipes. Pipe descaling is often used in conjunction with hydro jetting cleaning services to provide additional protection against blockages.
Our expert descaling process includes:
Utilizing Picote High-Speed Cleaning Machines to remove scaling.
Ensuring that the material goes into the flow line so you're left with a clean, raw pipeline.
Assess the line's structural integrity and determine the best next steps.
Prepare the line for rehabilitation through more service or relining.
If water is slow to drain or you notice water leaks between pipe joints, it may be time for descaling. Lanz, Inc. is passionate about extending the longevity of your pipelines, improving water quality, and preventing major blockages and downtime. No matter the state your lines are in, we have the tools to either get them back to a place of proper function or provide tailored rehabilitation and repair solutions.
What Is Pipe Rehabilitation?
Pipe rehabilitation (sometimes used interchangeably with pipe repair), is a trenchless approach that enables repairs and replacements with minimal invasion and disruption.
After the descaling process, rehabilitation is the preferred solution for instances in which a camera inspection reveals the that there is no flow line. If pipes are already deteriorating on top of being exposed and disconnected, the deterioration will occur much faster. At this point, our rehabilitation provides a convenient solution to restoring the structural integrity to the same level of replacement, without the mess or major expenses.
Because cast iron pipes rarely, if ever, fail in one small section, a failure of any extent needs to be addressed as soon as possible to mitigate further damage. Rather than digging an entire trench that ends in a major hassle to clean up, trenchless rehabilitation is the ideal solution.
Rehabilitation is a game changer for major institutions like hospitals, airports, and schools. We make major construction projects with indefinite timelines and disruption to daily operations a thing of the past. Our goal is always to provide you with the most cost-effective, innovative service that gets you back to business in no time.
Our Expert Descaling Team Has You Covered
Whether you know your pipes need descaling or are simply unsure about a slow drain, our team is here to help. With 100+ years of combined industry experience, we will quickly and accurately determine if it's time to descale your pipes and find the right rehabilitation or relining approach afterward. For any underground problem, we have an underground solution. Why call anyone else? Get in touch with our team today at 217-394-1380 .