Tankless Hot Water Heater Services Near Champaign, IL
Having reliable hot water for your Champaign, IL, home is a must. Lanz, Inc. is here to help with tankless water heater installations, replacements, and repairs that put your needs first. Whether you are ready to upgrade and need help finding the right system or are dealing with a leak, we have you covered!
We will help you understand all of your hot water options to find the right make and model to deliver hot water everywhere you need it, and fast. Why call anyone else?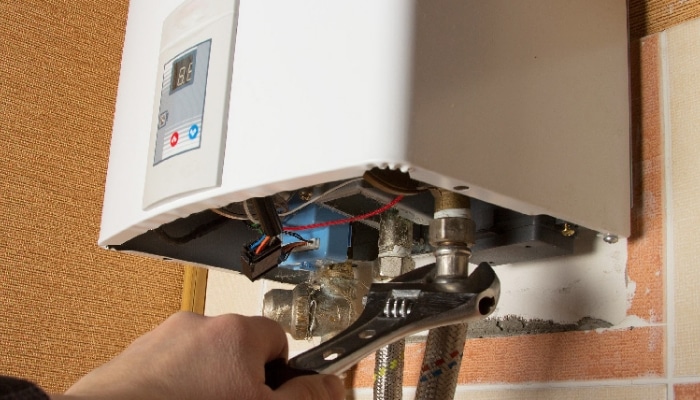 Benefits of Tankless Water Systems
Also known as "on-demand" units, tankless style water heaters supply hot water when you need it rather than storing pre-heated water in a tank. When a tank-style unit runs out of water, it can take a while to refill. By heating the water as you need it, tankless models eliminate wait times for showers, dishes, and more.
Tankless water heater advantages include: 
Longer lifespan with proper maintenance.
Greater energy efficiency by heating water as needed.
Continuous hot water wherever you need it.
Compact size that fits almost any space.
Upgrading to a tankless water heater is a popular option for homeowners looking to save energy and lower energy costs. These systems work best for small households and can be installed for your entire home or for point-of-use in bathrooms and kitchens.
New Tankless Water Heater Installation
When it's time to replace your water heater, our team will help you find the right make, model, brand and size to fit your home's unique needs. We will assess your current water heater setup and your home's water demands to select a new system that fits your space and budget.
Our full-service plumbing installation has you covered from start to finish. We will disconnect and remove your existing system to install the replacement, testing and inspecting every component for safe and reliable function.
Tankless Water Heater Repairs
If your current tankless water heater runs into trouble, we have the tools and experience to repair the plumbing issue, big or small. We will troubleshoot and diagnose the malfunction to treat it at the source for lasting results.
When should you schedule a tankless water heater repair? 
If the temperature of the water fluctuates between too hot and too cold.
If there is uneven hot water distribution across appliances and taps.
If the water pressure is too low.
If there are any signs of a water leak.
We know how important hot water is to your home's day-to-day routine. That's why we guarantee prompt response times and efficient service to get things running again as quickly as possible. Don't let a broken tankless water heater interrupt your day - call our team 24/7.
Upgrade Your Water Heater Today
At Lanz, Inc., our customers always come first. Whether you are looking to upgrade your current system or need a reliable repair, we offer clear estimates and explanations to help you make the most sound decisions for your home.
Our tankless water heater services are backed by exceptional warranties and a one-year 100% satisfaction guarantee. Get started upgrading your comfort today by contacting our team online or giving us a call at 217-394-1380 !