Residential Furnace Repair Near Champaign, IL
There's never a good time for your heater to break down, but failures often happen when you need heating the most. Unless you enjoy living in a freezer, it's important to contact Lanz, Inc. for speedy, professional heating repair services in Champaign, Monticello, Urbana, IL, and the surrounding areas. We are equipped to handle any furnace issue for any make, model, or brand. Why call anyone else?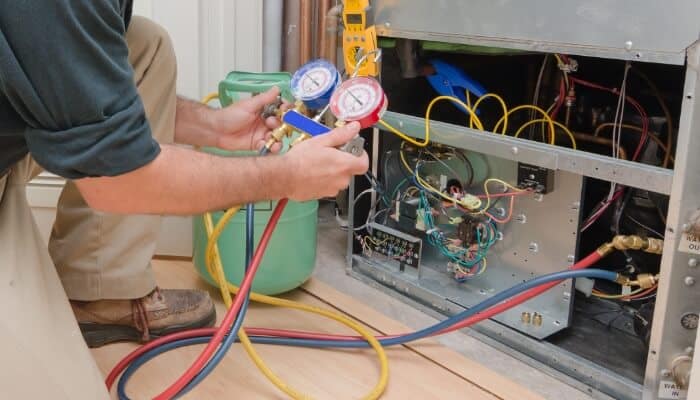 The Importance of Timely Heater Repair Services
Even if your home is well-insulated, it doesn't take long for cold air to gain entry. An uncomfortable situation can become dangerous if your heater fails during particularly cold weather. Left unaddressed, some heating malfunctions can pose fire hazards or cause hazardous combustion byproducts to back up into your living space. Ignoring issues could even lead to a complete breakdown and the need for a replacement furnace.
Whatever the problem, it's simply not worth taking chances with your family's well-being. We understand that every minute counts when your heater is on the fritz. That's why we have experienced crews and fully stocked service vehicles ready to respond 24/7 when you need assistance with no additional fee for after-hours service.
Diagnosing Common Heating Repairs
Over the years, we've seen heaters fail in just about every conceivable way. However, we've also observed that most furnace repair calls fall into just a few basic categories. Understanding common heating issues can help you be better prepared for a breakdown.
One problem is insufficient airflow which leads to poor performance. This may result from a heavily soiled filter, a faulty blower motor, or an obstruction in the ductwork. Another common issue is when your heater repeatedly cycles on and off without completing a full cycle. Unfortunately, this often indicates that your furnace or heat pump wasn't sized properly.
Furnace Troubleshooting
Before you call for professional help with a furnace issue, there are some things you can check first:
Check your thermostat - is it set to heat your home? Are there batteries that need to be changed?
Check the exhaust - make sure there is no snow or ice around or inside the pipe.
Check and change the filter - a clogged filter on a furnace puts out cold air and stresses the blower motor. You can't always see if a filter is clogged, though, as the particulates may be microscopic.
Manually restart - cut power to the furnace (emergency cut-off switch or breaker) for 10 minutes and then restart your furnace.
If these preliminary steps don't resolve your heating issue, it's best to call a trusted heating company. There may be underlying issues causing unnecessary wear and tear on your system that are invisible to the untrained eye. Our team is ready to quickly find even the smallest of problems and repair them before they snowball into anything bigger.
Quality Furnace Repair Services with a Professional Touch
Whatever issues you're experiencing, the most important thing is to get effective, lasting heater repairs. Our NATE-certified technicians are trained to repair all brands and types of heaters. We pair consistently excellent workmanship with courteous service, honest dealing, and an unwavering commitment to professionalism. Our priority is always to restore long-lasting comfort with as little hassle and disruption as possible. We achieve that goal because we uphold the highest standards of workmanship and customer service.
Fully trained, licensed, and insured technicians.
Responsive staff with well-stocked service vehicles.
High-quality repair parts from trusted manufacturers.
As a family-owned and operated company that's been serving the Champaign, IL, area since 2002, we value the principles of honesty and integrity. We know your furnace is a big investment for your home, and we're here to help it last as long as possible. Why call anyone else? When you need heating repair, we'll be here at 217-394-1380 !