Sump Pump Repair and Replacement Near Champaign, IL
If you have a basement or crawlspace that's prone to flooding in the Champaign, Monticello, IL, or surrounding areas, you need to take action. A new sump pump installation from the experts at Lanz, Inc. can get rid of unwanted water and protect your home against a number of potentially serious and costly issues.
If your basement or crawlspace already has a sump pump, our experienced service technicians offer effective repairs and thorough maintenance services to keep your equipment running properly. If your sump pump isn't draining properly, it's obviously time to call for professional assistance. However, it's also a good idea to schedule a service call if you notice foul odors coming from the drain or odd noises coming from the pump.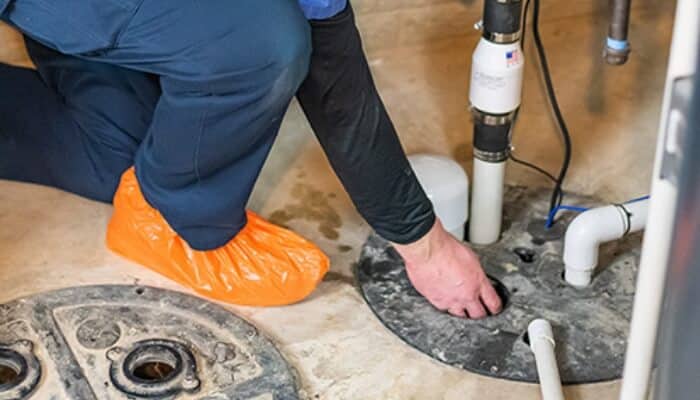 1. Liberty Night Eye
Audible smartphone-enabled alarm
2. Water Powered Back Up
If the power goes out, this pump is powered by municipal water pressure.
3. Bypass Discharge Valve
If the ground is saturated, this feature keeps the water out of the basement.
4. Primary Discharge
The sump pump will pump water out through this discharge line.
5. Quiet Check Valve
This safety feature will reduce water hammer and have quieter operation.
6. Liberty Sump Pumps
Permanently lubricated upper and lower bearings.
Oil-filled permanently sealed motors with thermal overload protection.
Stainless steel bottom screen, rotor shaft, and fasteners.
3-year parts warranty and made in USA.
Water Damage Is the #1 Insurance Claim in Illinois
Did you know sump pump underwriters don't cover the damage if the pump is not maintained properly? When submitting an insurance claim for sump pump failure, claims adjusters look for ways to prove your due diligence so they can prove your case to underwriters. Your sump pump will be inspected. If it isn't found to be in good working order or you failed to keep it operational, your claim could be denied based on improper, or lack of, maintenance. You could also face an insurance premium increase.
What is proof of proper maintenance?
Having your pump regularly inspected and maintained by professional plumbers like Lanz, Inc. eliminates sump pump operational issues, and gives you proof for insurance companies that the pump was inspected by a professional. Maintenance is critical to a sump pump's function. But even a properly maintained pump can fail at any time due to age or inactivity, so regular inspections are needed.
Sump Pump Repair and Inspection Task List
Inspect the location and condition of the power source.
Confirm power cord from the pump is in good condition and securely inserted into a grounded outlet.
Visually inspect the condition of the pump, discharge piping, and basin.
Determine sump pump, basin, and immediate area, are free and clear of debris or obstructions.
Fill the basin and activate the pump for 3-4 cycles.
Unplug the pump, fill the basin, and confirm the proper operation of the alarm and backup pump if applicable.
It's recommended to replace your sump pump every 5 years.
Our plumbers are available to restore your sump pump with 24/7 emergency services for Comfort Family Members and no additional fee for after-hours service.
Return the sump pump to normal operation.
Activate pump 2-3 cycles, and confirm proper operation.
Reattach the basin cover.
Demonstrate a series of steps taken to corroborate the inspection.
Inform the customer of findings or any recommendations.
Need Help Finding the Right Equipment?
Before you invest your hard-earned money in a new sump pump, you'll want to make sure that the model you choose has the right pump capacity to meet your needs. Even if your basement or crawlspace occasionally experiences light to moderate flooding, you can still end up with water damage to your property or worse. In more severe cases, you could have to deal with organic growth or possible damage to your home's foundation.
Our plumbers are here to help you figure out the correct pump capacity and we will recommend accessories that will keep you informed, optimize performance, provide backup power, and reduce noise. Once you've selected your new equipment, you can count on our plumbing professionals to deliver a skillful installation. We carry and install products from Liberty Pumps®, which feature a 3-year limited warranty provided by the manufacturer.
Dependable Sump Pump Repair and Maintenance Services
Sump pumps need to be checked regularly to ensure that they'll be ready for action at any given time. In fact, the nation's leading manufacturer of groundwater removal pumps, Liberty Pumps®, recommends having the floating mechanism checked four times a year. In our experience, the number one cause of sump pump failure is lack of maintenance. At Lanz, Inc., we offer a quarterly sump pump maintenanceplan so that you can rest easy knowing your home is well-protected.
Expert Sump Pump Service in Central Illinois
As a family-owned and operated service provider that's been in business since 2002, we strive to give back to our community by contributing to a number of worthwhile charities. We develop each employee according to a strategic career path to help them reach their full potential. To us, honesty and integrity are more than just words. These principles are the very foundation of our company. When you need sump pump services, call the professionals at Lanz, Inc. at 217-394-1380 for superb results.