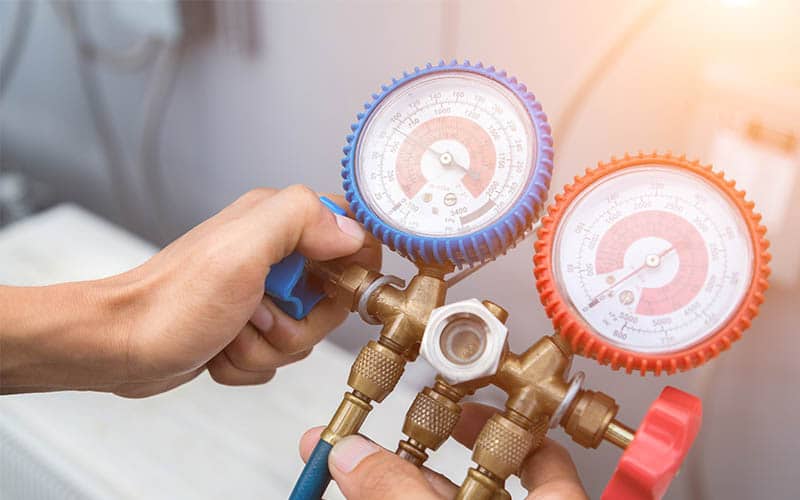 Can an air conditioner be undercharged? The simple answer is yes, and it may happen more often than you think. A recent study at the University of Florida randomly surveyed 22 different commercial and residential air conditioners in Gainesville, Florida, and they found that 17 out of the 22 (over 75%), were undercharged to 85% of the correct level or even less.
When units were charged to 90% of their proper level, they worked almost normally. However, when the charge dropped below 85% of the proper charge, the performance level dropped off significantly, with the systems providing 15% less cool air than normal or worse. When the system had only 50% of the proper charge, researchers were not able to measure any cooling at all.
What Does That Mean for Me?
The effects of an undercharged air conditioner may not be evident to the user right away. A low refrigerant charge will not necessarily result in a unit not cooling, but it will result in it not working as effectively.
How Does It Happen?
AC systems can lose their charge because of a major leak, which may indicate a more costly repair, but they can often have tiny leaks that release coolant very slowly. It may take years for some units to lose 15% of their charge.
How Can I Tell If My System Is Undercharged?
Here are some symptoms that you might notice if your system is undercharged. They may include some or all of these:
Frosting of the coil or refrigerant lines
A total loss of cooling in the building
Increased humidity in your indoor spaces
Your AC is experiencing longer run times
What Can Happen If It's Not Fixed?
One of the biggest concerns is compressor damage. The compressor counts on the refrigerant to remove the heat from the motor, and if it's low, it will not effectively remove the heat. This can result in damage to the compressor and shorten its lifespan.
What should I Do?
Regular maintenance will help ensure that your air conditioner will operate as efficiently and as effectively as possible. Have your equipment checked and maintained annually. A properly executed maintenance plan can help identify potential issues and keep your system in peak performance. Call Lanz Plumbing, Heating & Cooling, Inc. today to make an appointment or if you have any questions about your air conditioner's refrigerant level.