Stay Warm With Our Heating System Tune-Ups in Champaign, IL
With months of frigid temperatures and snow, winters in the Champaign area can be unforgiving. Keeping your heating system properly maintained is the best way to stay ahead of the cold and keep your home comfortable through even the harshest winter storms. Lanz, Inc. has you covered with preventative furnace maintenance near Champaign, IL, to ensure your system is thoroughly inspected and prepared for a hefty workload.
Our maintenance and tune-up services help extend the lifespan of your heating system, improve indoor air quality and reduce unexpected breakdowns. We're here to help you stay cozy all winter. Why call anyone else?
What can happen if you don't service your furnace every year?
Neglecting annual furnace servicing can lead to multiple issues. Dust and debris accumulation may reduce efficiency, causing increased energy consumption and higher utility bills. It raises the risk of malfunctions, potentially leaving you without heat during colder months. Ignored problems can escalate, leading to costly repairs or even premature system failure. Additionally, a neglected furnace may pose safety risks, such as carbon monoxide leaks. Regular servicing ensures optimal performance, extends the system's lifespan, and addresses potential safety concerns, making it a crucial investment in your home's comfort and safety.
Can routine furnace maintenance improve my home's air quality?
Yes, routine furnace maintenance can positively impact your home's air quality. Regular servicing involves cleaning or replacing air filters, removing dust and debris from components, and ensuring proper ventilation. This helps reduce airborne particles like dust, allergens, and pollutants circulating in your home. A well-maintained furnace contributes to better indoor air quality, creating a healthier and more comfortable living environment. Additionally, it can prevent the buildup of contaminants that may exacerbate respiratory issues or allergies, promoting overall well-being in your home.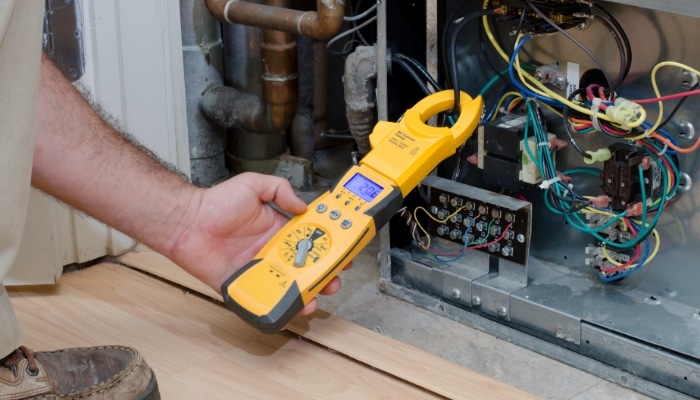 Why Furnace Maintenance Matters
After months without using your furnace, it will need a little care and attention to run at peak performance again. Even if there don't seem to be any obvious malfunctions, it's important to have internal components inspected for wear, tear and potential problems. Staying on top of air filter changes and minor repairs will help you avoid unwelcome surprises when you need your heater most.
Maintenance also helps you save! Preventative services can lower monthly energy costs and reduce the risk of replacing your system early.
Benefits of regular maintenance include:
Improved efficiency: A well-maintained furnace uses less energy so you can enjoy lower utility costs.
Extended lifespan: A little TLC goes a long way. Proper maintenance helps your system last as long as possible.
Enhanced comfort: Regular maintenance ensures your furnace delivers consistent warmth throughout your home.
Safety assurance: Furnace inspections help detect potential safety hazards like as carbon monoxide leaks.
How Often Should Your Furnace Be Serviced?
One common question homeowners ask is, "How often should my furnace be serviced?" The answer depends on several factors:
Annual Maintenance: In general, it's recommended to have your furnace serviced annually in the early fall. An annual furnace maintenance appointment before the heating season begins ensures that your system is ready to handle the cold months ahead.
Age of the Furnace: Older furnaces may require more frequent maintenance to keep them running efficiently. Furnaces over 10 years old may benefit from semi-annual check-ups.
Manufacturer Recommendations: Some furnace manufacturers specify the frequency of maintenance in their warranties. It's essential to adhere to these recommendations to maintain warranty coverage.
At Lanz Inc., we recommend annual furnace maintenance for most homeowners in Champaign, IL. An annual check-up allows us to catch and address issues early, ensuring your furnace operates efficiently and safely throughout the heating season.
Our Lanz Comfort Family memberships make maintenance a breeze with discounts, priority service and friendly reminders to schedule your appointment! Become a member today and let us handle your furnace needs so you can focus on everything else.
Our Furnace Maintenance Services
As a full-service HVAC company, we offer comprehensive furnace maintenance services to protect your system inside and out. Our expert technicians will perform a thorough inspection, clean the system, lubricate moving parts and make any recommendations for heating repairs or parts replacements.
Furnace Inspections
Our thorough furnace inspection covers every component of your heating system. We check for signs of wear and tear, loose connections and potential safety issues. Having a professional inspection ensures that no stone goes unturned. An HVAC technician will inspect your furnace to detect any underlying problems before they escalate and check for any performance issues caused by internal components.
Furnace Cleaning
Over time, dust and debris can accumulate within your furnace, hampering its performance. During a preventative service, your technician will clean the unit to remove dirt, debris and dust buildup that can impact performance. They will also replace dirty air filters and check that nothing is blocking air vents and impeding airflow.
Furnace Maintenance Checklist
Our technicians follow a comprehensive furnace maintenance checklist that covers all essential tasks, including:
Inspecting and cleaning burners and heat exchangers.
Checking and tightening electrical connections.
Lubricating moving parts.
Checking the gas line, ignition and flame.
Measuring airflow and adjusting as needed.
Replacing or cleaning air filters.
Inspecting thermostat functionality.
We have the equipment and years of experience to protect your heating system inside and out. If we detect any problem areas, we will keep you informed before any repairs or heating replacements are made. With our comprehensive heating maintenance and tune-up services, you can rest assured you are working with a team committed to your comfort.
Why Choose Lanz, Inc.?
We've been keeping Champaign-Urbana homes comfortable since 2002! With decades of experience and a passion for serving our surrounding communities, Lanz, Inc. is proud to be your go-to HVAC provider.
Experienced technicians: Our team consists of highly-trained professionals with extensive knowledge of all major furnace brands and models.
Local expertise: We understand and are equipped to handle the unique heating challenges of the Champaign-Urbana, Monticello, St. Joseph and Rantoul, IL, areas.
Timely service: We respect your time and schedule. Our technicians arrive promptly, ensuring your furnace maintenance is completed efficiently.
Transparent pricing: We offer flat-rate pricing and will let you know costs upfront so there are no hidden surprises.
100% satisfaction guarantee: Our goal is to leave you fully satisfied with our furnace maintenance services. We're not satisfied until your furnace is operating at its best.
Schedule Your Furnace Maintenance Today!
Don't wait until the bitter cold of winter to ensure your furnace is ready for action. Furnace maintenance is an investment in your home's comfort, efficiency and safety. Contact Lanz, Inc. online today or call us at 217-394-1380 to schedule your furnace maintenance appointment or HVAC check-up. We're here to keep your home warm and cozy all season long.